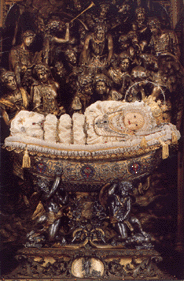 Holy Mother Church celebrates the birthday of Our Blessed Mother Mary on the 8th of September each year, but rarely is our attention drawn to Our Lady as an infant. Devotion to Maria Bambina helps to fill that void.
The miraculous image of Maria Bambina was made prior to 1730 by a Franciscan nun who afterwards entrusted Her to others. During the ensuing years She came into the care of the Sisters of Charity at Lovere, Italy. In 1856 these Sisters of Charity were asked to take over the management of the Hospital of Ciceri in Milan and in 1876 this waxen image was carried to their Mother House there at Via S. Sofia 13, where She has remained ever since.
The beautiful image of the Maria Bambina was exposed for veneration only on the 8th of September, the Feast of Mary's Nativity. In 1884, those who were devoted to the Maria Bambina received a reward for their devotion. Due to paralysis in her arms and feet, Sister Josephine Woinovich was bedridden and in unbearable pain. On the 8th of September she begged the Mother General to get Maria Bambina and leave the image near her overnight. The following morning the Mother General was inspired to take the image, so old, worn and grayish colored to the other sick Sisters in the infirmary so they could kiss Her. There was in the infirmary a good novice, Giulia Macario, who was unable to move because of her serious illness, but who, overcome by her ardent faith, took the image into her arms and pleaded with Her in tender and loving words for the Grace for her recovery. She was immediately and miraculously cured, for such Faith moves mountains. And at the same time this image itself underwent an amazing transformation from the former dull gray color to the warm flesh hues it has today, as can be seen, where She is enshrined in the Sanctuary of the Mother House in Milan.
Many graces and miracles have come from devotion to the Maria Bambina, among them the recovery of Sister Josephine Woinovich herself. And that is why these sisters are now commonly known as the Sisters of Maria Bambina. Each year on Our Lady's birthday, the Sisters of the Bambina touch small pieces of cotton to the miraculous image of the Maria Bambina. These pieces of cotton are then distributed as sacramentals to those who have become attached to devotion of Maria Bambina. (Taken from information provided by the Sisters. Imprimatur: In Curia Arch Mediolani die 14-1-196; Theresius Ferraroni)